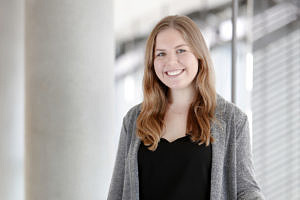 The Bachelor's degree in International Business Studies is particularly appealing to me because of the obligatory language modules and the compulsory semester abroad. Both components point out the important intercultural aspects of international business.
Lea, current student in International Business Studies
I have chosen the Bachelor's degree in International Business Studies because I have a great interest in global, economic relations. IBS offers a wide range of core and elective modules in this context. By imparting the basics of business administration in an international context, the program provides a great foundation for working in a globalized economy.
Lukas, current student in International Business Studies
Interview with Reinhard, Bachelor's degree program in International Business Studies
Why did you decide to study a Bachelor's degree program at the School of Business, Economics and Society?
I wanted a degree program with an international focus which is why I decided to study International Business Studies at the School of Business, Economics and Society. This degree program includes a semester abroad. Internationality is very important at the School: hardly any other university in Germany has so many partnerships and collaboration with universities in other countries as the School of Business and Economics at FAU – whether it is in China, Japan, France or America.
And the fact that I can take a break after completing my Bachelor's degree after three years was another important factor that convinced me to study this program. During that time I can gain some professional experience or go abroad again before I start a Master's degree program.
What tip would you give new Bachelor's students?
Make sure you apply for the School's mentoring program! If you're accepted you'll have access to workshops and placements at big-name companies like Siemens AG, TeamBank and Müller Medien. By doing an internship you might be recommended for a position as a working student, allowing you to work alongside your studies. I'm a working student at a large German bank where I work 10 to 15 hours a week. If you plan your tutorials well then fitting everything in isn't a problem.
What do you like about Nuremberg?
If university life starts to get a bit too stressful, you can go to the zoo in Nuremberg or go walking in Fränkische Schweiz to the north to get away from it all. I also really like the cultural activities on offer in the region – there's something going on every weekend. The highlights are the Bergkirchweih in Erlangen, the Blaue Nacht and, in particular, the Klassik Open Air concert in Nuremberg.
Experience Nuremberg
A historic city with a modern vibe
Whether it's the Imperial Castle, the historic old town, the impressive churches or the beautiful traditional houses – there's a long list of sights to see in Nuremberg. The city's cultural scene includes a range of museums and exhibitions, as well as music venues such as Meistersingerhalle, Frankenhalle and Tafelhalle. The opera house, the theater, various open air concerts, galleries and workshops add to the extensive selection of cultural activities on offer in Nuremberg.
There are many parks, gardens and other green spaces close to the city center where you can go to relax, such as Dutzendteich, Wöhrder See and Pegnitzauen. In the surrounding area there are plenty of interesting places to explore. The Franconian Lakes, Fränkische Schweiz and the Rangau area are further popular destinations.
If you still feel the urge to travel further afield, you can take the subway to Nuremberg Airport (just seven kilometers away from the old town), which has direct connections to more than 70 destinations in 21 countries.
While Nuremberg's center is the main attraction, the rest of the city also boasts a range of cultural and gastronomic hotspots. Nevertheless, the center is the perfect starting point, as many interesting destinations are within walking distance. Modern art lovers should make sure to visit the Neues Museum (Klarissenplatz). Just a short walk you'll find the Toy Museum (Karlstraße 13). Another of Nuremberg's most popular attractions is the Germanisches Nationalmuseum (Kartäusergasse 1), which puts on a variety of special exhibitions. Why not enjoy a short tour through the old town, stopping for a cappuccino or two at SkyBar in the Admiral Kino cinema before heading to the Imperial Castle. On the way you may want to visit Meisengeige – a Nuremberg institution. This small cinema specializes in independent films and readings.
If theater is more your thing, you can take the subway to the Opernhaus stop (Richard-Wagner-Platz) to visit the Staatstheater. With world-class concerts, ballet and opera, this is where you will see Nuremberg's cosmopolitan side. The small but equally brilliant Gostner Hoftheater (Austraße 79) hosts cabaret on its stage, while jazz musicians perform in the cellar and comedians entertain audiences in the Comedy Lounge. While you're in the area there's plenty more to see. The Gostenhof neighborhood, often referred to as 'GoHo' by the locals, has a music scene reminiscent of a small-scale London or Manhattan, as well as many unusual shops. Why not browse the ones on Kernstraße before stopping for a drink at one of the many pubs inspired by both Franconian tradition and modern bar culture.
Sports fans certainly won't be disappointed in Nuremberg. The soccer club 1. FC Nürnberg, which plays at the Max-Morlock-Stadion, has many loyal fans who stick by them even when things are going so well. Not far from there you'll find the ARENA NÜRNBERGER VERSICHERUNG (Kurt Leucht Weg 11), home to the Nürnberg Ice Tigers who play in Germany's top ice hockey league, the DEL. In between matches, the ice rink hosts a range of events, providing the stage for musicians and bands such as Robbie Williams, Elton John and Die Ärzte. The ARENA also hosts the handball club HC Erlangen that is currently competing in the German Handball Bundesliga.
Of course, students will also want to explore Nuremberg's night life. Mach 1 (Kaiserstraße 1) is the place to go to hear current developments in music and see the latest fashion trends. K4 (Königstraße 93) is a great location if you like indie rock, soul music or poetry slams, and you'll find the perfect atmosphere for an evening out in the bars on Innere Laufer Gasse or around Weißbergergasse.
With so much to see and do, the only thing you need to worry about is that you aren't too busy to study.